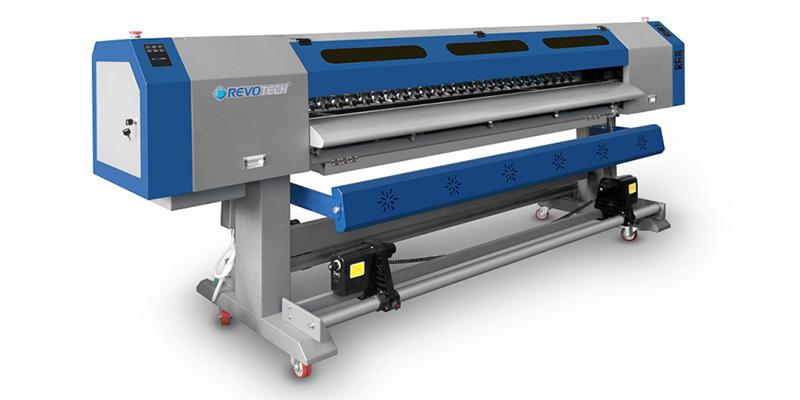 Basic information:
Print head: KONICA 512I 6PL
Color: CMYK
Max resolution: 1440dpi
Max printing speed: 68 sqm/hr
Max printing width: 1.8m (71inch)
Product features:
1. The printing unit is easy to maintain with its small volume and high quality printing capabilities on all kinds of materials.
2. The eco solvent printing commercial printer is equipped with a high efficiency automatic media feeding and collecting system.
3. Positive pressure cleaning is used in the print head cleaning system. The anti-clogging flash function can eliminate blockages and the print head sprays a small amount of ink at regular intervals in order to keep the nozzle wet, wash the blocks away, and allow for a fluid release of ink when printing.
4. Print head heating system is set to prevent ink from breaking down by keeping the temperature stable and keeping the ink in the optimal state in a stable working condition during the printing process.
5. The environmentally-friendly eco solvent ink is safe for use as it contains no pollutants and does not produce any dangerous odors while producing brightly color prints which maintain their beauty for long periods of time.
Application:
1. The SPL-180X 512i 6PL Eco Solvent Printing Commercial Printer is suitable for processers requiring environment protection and high precision printing in small formats.
2. Paper, advertisement light box, PVC, mesh, gummed paper sheet can be printed with the printer.
3. The advertisements printed with the printer can be displayed in restaurants, stores, gyms, airports, underground stations, high-speed rail stations, highway ad billboards and bus advertisements.
Parameters:
Print Head
KONICA 512I 6PL
Number of Print Head
4
Maximum Print Width
1.8m (71inch)
Print Speed
Draft Model
68 sqm/hr
Standard Model
50 sqm/hr
Ultra Model
36 sqm/hr
Color
CMYK
Maximum Print Quality
1440dpi
Image Format
Bitmap, TIFF, Quark Xpress, JPGEG, AI, EPS, PDF
Color Management
Superior ICC Profile
Work Flow
RIP and Print simultaneously/Print after RIP
Print Interface
USB2.0
Ink Type
Eco Solvent Ink
Software
Photo Print, REVOTECH Edition
Work Station
Windows 10 or Windows 7
Operating Environment
220V~(+10%)>15A,50Hz/60Hz
Our company is a leading high resolution eco solvent printer manufacturer and supplier in China, we are offering printing equipment such industrial printers, commercial printers, these printing machines are widely used in poster printing and banner printing, and can print different printing materials like paper, textile, and we have rich experience of manufacturing large format printers, we are confident to offer any client good quality digital printing machines with reasonable price.
Index
commercial printer, eco solvent printing, wide format printer, textile printer