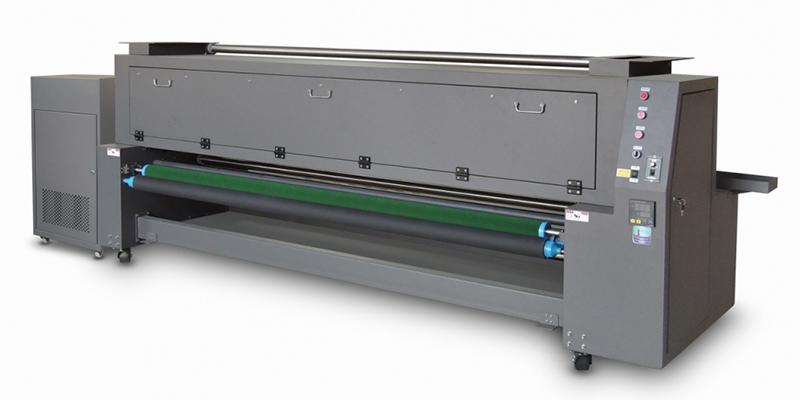 Function:
Color development and fixation after printing from the sublimation printer.
Basic information:
Voltage: 220V
Speed: 220m/h
Power: 7200W
Temperature: 180℃-230℃
Size: 2200mm
Application:
The HT-2200D dye sublimation printer drying box with a water based fission dye sublimation printer is used for the development of color in wide formats.
Product features:
1. A drying box can work simultaneously with multiple printers, thus improving the work efficiency.
2. The temperature control is strict and exact inside the drying box. The heating system works efficiently in order to increase and maintain temperatures, which automatically reduces power consumption when temperatures have reached standard development points.
3. The specialized internal structure is designed to reduce the smoke after sublimation and keep the temperature stable and even, thus ensuring the fabric material color is also uniform after development.
4. A lift column device is equipped to allow the user to handle cloth easily and conveniently.
5. Triple rubber pressure rollers for media take-up protect the materials against folding, deformation, or moving in the wrong direction.
6. On the simple operation panel, users can control the up/down motion of the lift column. For example, if the print process is paused, users can lower the lift column and separate the fabric in order to avoid high temperature damage.
7. The machine cover is set as an opening structure on the front of the machine, which ensures an excellent impermeability and no gas leakage.
8. Both water vapor and oil steam are produced in the ink sublimation process, and smoke will move through an independent tube for purification, then directly sent into the air.
9. With a dual lift column device, the longer the printing material remains inside the machine, the faster the speed and better the homogeneity of the color development, and the more stable the stepping process is.
Our company is a leading dye sublimation printer drying box manufacturer and supplier in China, we are offering printing equipment such industrial printers, commercial printers, these printing machines are widely used in poster printing and banner printing, and can print different printing materials like paper, textile, and we have rich experience of manufacturing large format printers, we are confident to offer any client good quality digital printing machines with reasonable price.
Index
commercial printer, printer drying, color fixing, color development