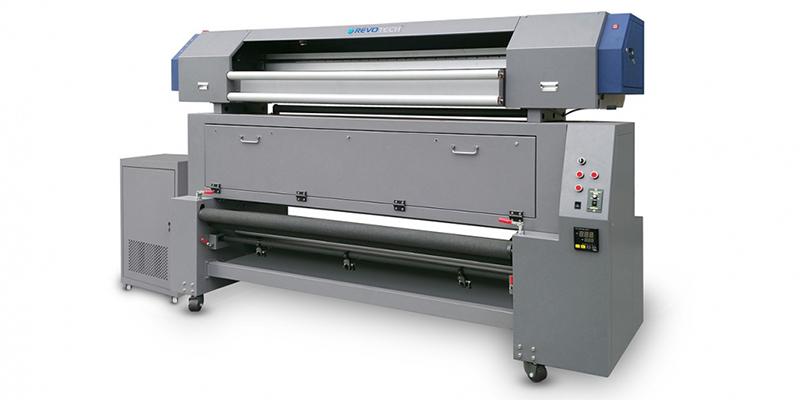 Basic information:
Print head: KONICA 512I 13PL
Color: CMYK/R
Max resolution: 1440dpi
Max printing speed (CMKY): 90 sqm/hr
Max printing speed (R): 180 sqm/hr
Max printing width: 1.6m (63inch)
Function:
The NSPL-160X water based all-in-one dye sublimation printer prints using sublimation ink and works with a dye sublimation printer drying box in order to develop and attach color to the material being printed on.
Product features:
1. The printer is equipped with a Japanese KONICA 512I industrial print head, which features a high speed and precision, as well as a strong spraying power. Banners printed using this printer are washable, fade resistant, weather resistant, and have an excellent replication on both sides.
2. The NSPL-160X water based all-in-one dye sublimation printer is equipped with an automatic media feeding and collecting system.
3. Positive pressure cleaning is used in the print head cleaning system. The clogging prevention flash function is designed to prevent blockages, and the print head will spray a small amount of ink at regular intervals to keep the nozzle wet, wash any ink blocks away and ensure ink flows smoothly.
4. A print head heating system is used to prevent ink from drying out and cracking by keeping the temperature stable and ink in the best state possible in stable working conditions during the printing process.
5. An ink box heating system ensures a continuous ink supply.
6. The drying box feature a temperature control system in order to maintain a stable temperature, which results in less power consumption in the heating system and an improvement in the heating efficiency.
7. The heating system works efficiently to increase and maintain the temperature and as a result, automatically reduces power consumption costs when the temperature reaches a standard development point.
8. The automatic cutting system saves the time needed to cut materials, thus improving the work efficiency
9. The printer is equipped with a highly accurate rail and AC servo motor in order to maintain a stable carriage operation at high speeds.
10. With the addition of an industrial fabric transportation system, fabric is conveniently fed in and out with a high printing quality and no folding.
11. The humidity control system prevents the print head from getting stuck.
12. The aluminum carriage cover protects the control board and print head against the ink spray.
13. The sensing rocker arms equipped in the printer automatically detect fabric condition, and transports the fabric by exerting a stable tension to expand materials and avoid any obliquity during color development.
Application:
1. The NSPL-160X water based all-in-one dye sublimation printer is suitable for new banner processors that are produced in small batches.
2. This printer is ideal for printing on sublimation fabric, which is then used to make banners, flags, mesh, silky/satiny materials, wrap cloth and tribute silk.
3. The printings are widely used as banners, flags, fabrics, decorative paintings, indoor advertisements, outdoor advertisement, decorative displays, background displays, toys, and curtains.
Parameters:
Print Head
KONICA 512I 13PL
Number of Print head
4
2
Maximum Print Width
1.6m (63inch)
Color
CMYK
Red
Print Speed
Draft Model
90sqm/hr
180sqm/hr
Standard Model
65sqm/hr
130sqm/hr
Ultra Model
50sqm/hr
100sqm/hr
Maximum Print Quality
1440dpi
Image Format
Bitmap, TIFF, Quark Xpress, JPGEG, AI, EPS, PDF
Color Management
Superior ICC Profile
Work Flow
RIP and Print simultaneously/Print after RIP
Print Interface
USB2.0
Ink Type
Sublimation Ink
Software
Photo Print, Revotech Edition
Operating Environment
220V~(+10%)>15A, 50Hz/60Hz
Our company is a leading all-in-one dye sublimation printer manufacturer and banner printer supplier in China, we are offering printing equipment such industrial printers, commercial printers, these printing machines are widely used in poster printing and banner printing, and can print different printing materials like paper, textile, and we have rich experience of manufacturing large format printers, we are confident to offer any client good quality digital printing machines with reasonable price.
Index
commercial printer, textile printer, large format printer